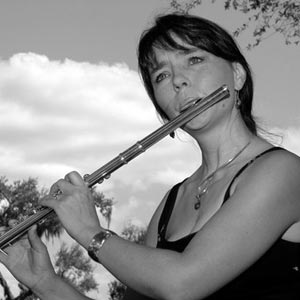 Malgorzata Sobala (a.k.a. Gosia)
Gosia, the Polish girl from Warsaw, has always been full of life and energy. Since an early age, she loves dancing, singing and her parents kept saying that she was going to end up on stage as a career. At age 9 she joined the school of music where her main instrument was the flute. Since then she performed solo, with choirs, and a few different orchestras. At 17 she won a concerto competition and performed at the Academy of Music in Warsaw. Soon after she traveled with the Polish choir as a vocalist and flute soloist around France and Germany. Even though music became her life she still managed to act in a few motion pictures.
In 1988 when Gosia crossed the pond to America she had no idea she was going to speak fluent English, earn her Bachelor's and Master's degrees in music performance (flute, with a minor in voice) and became American.
She also had no idea that the Malaysian man named Ali that she met while teaching flute at the Gainesville Guitar Academy will one day be her mentor, her business partner, best friend and years later, husband.
Gosia considers herself the luckiest girl in the world. She loves every aspect of performing with the band, especially the challenge of learning songs in many languages and traveling. She loves meeting new clients and coming up with ideas how to make her performances fresh and fun. She is also very excited about coming up with new outfits and costumes for theme parties. So far her favorite was the Havana night at the Center for the Performing Arts and A Night in Paris at the Florida Museum of Natural History.
But nothing excites her more than meeting prospective couples planning the music for their weddings. Having worked in the industry for 20+ years, she knows all the vendors and is full of ideas and advice for a successful wedding. She loves her clients and many of them became friends for life!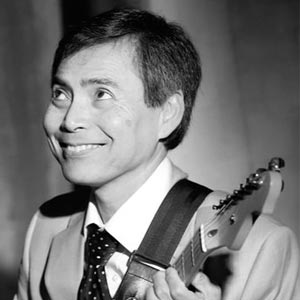 Ali Che'Ree got his first guitar in Malaysia at age 8 as a birthday present from his parents. He was so small that he could not quite get his fingers around the instrument's neck; so he just played single lines, one note at a time. He learned by watching "shade-tree guitarists", as the amateur guitarists in Malaysia were called. Without any formal lessons, he figured out ways to play chords and landed an audition for a National Children's Talent Show. That started his performing career on stages, radio and TV shows in Malaysia.
As a teenager, he led multiple bands, and was featured as a vocalist in the National Orchestra back in his native Malaysia. He picked up the piano, saxophone, and drums during his high school years. At 17, he was a finalist among seasoned veteran songwriters in the National Songwriting Composition.
Since his arrival in the U.S. in 1981, he has been active as a bassist/guitarist in numerous Jazz, Latin and Pop bands all over the east coast of the United States. He has appeared in Jazz festivals such as Jacksonville Jazz, Clearwater Jazz, Tampa Jazz, Atlanta/Montreux Jazz, Ormond Beach Jazz and Sunfest. He has opened for Spyro Gyra, Yellowjackets, Frankie Ruiz, Steve Morse and Bela Fleck and the Flecktones; performed with Wynton Marsalis, Saxmen Ernie Watts and Gary Foster; Trumpeters Tim Hagans and Jean Davis; Pianist Chuchito Valdes, Danny Mixon, and Helen Sung; vocalist Denise Thimes, Steel drummer Othello Molineaux; The Cars' Elliot Easton, and Bo Diddley. He writes the charts for his band with his wife while arranging music and records for other musicians and commercial projects.
He loves meeting clients at his home with Gosia, especially brides and grooms-to-be. There is nothing better than performing for someone on their happiest day of their lives!